Been a while, but here's a new batch for ya'll :D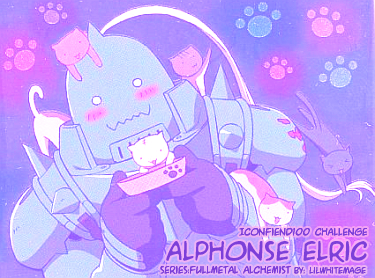 Artist:
lilwhitemage
Pairing/Character: Alphonse Elric (Fullmetal Alchemist)
Theme(s): #8. Abandoned, #10. Vacation, #20. Stars, #27. Happiness, #30. Over the Rainbow, #44. Heaven, #62. Artist's Choice-Chibi!Al to the Rescue!, #63. Artist's Choice-A Passing Glance, #64. Artist's Choice-Huh?
# of icons in post: 9
# of icons completed total: 43/100
Credits on icon post.

Sneak Peak!




Please remember to read the rules posted there as well.

Save me Chibi!Al!

x-posted here and there...